Paramotor News
The Worlds PPG Paramotoring News.
Welcome to 2012
0
The best paramotor forum can be found here Paramotor Forum
Other Posts You May Like:
0
Flying over water with a paramotor always presents us with a risk of drowning from a possible engine failure, wing malfunction or simply a pilot mistake.
There are specific water rescue systems than can be bought and added to your paramotor. There is also the wear a self inflating life jacket / vest not under, but along with your harness.
Obvious pros and cons of the purpose made design:
+ The frame fitted rescue system is neat and easy to leave in place.
– it's added weight and I don't always fly over water.
+ it's made specifically for this purpose.
– it's expensive.
Obvious pros and cons of the life vest option:
– I have to wear it with my harness and put it on correctly.
+ it's not part of my machine so I only take it when I'm going to fly over water.
– it's not made specifically for our sport.
+ it's cheaper, typically being well under £100
Now the not so obvious pros and cons:
+ the vest can just keep your head clear of water.
+ the vest will keep you afloat once you release your motor harness.
– the built in system does not work so well with an empty fuel tank and you could end up face down in the water.
– the life vest must be worn correctly with you paramotor harness, in order for it to be effective.
How do you wear the life vest and then your motor harness, but it is important for the inflating part of your vest to be visible and showing outside your motor harness. See the video below.
Watch these video demonstrations from separate manufacturers testing Paramotors in water.
PAP testing in water with and without the Pilot life vest. Note how they wear the Life Vest.
PAP testing in Water
EC-Extreme testing various methods of keeping afloat, not all good ones either.
Water Rescue System PPG Testing
Nirvana demonstrating the AGAMA water rescue system.
AGAMA water rescue system
Footflyer test of the Agama system
Footflyer test of Agama water system

The AGAMA water rescue system


A Life Vest (Plastimo Pilot)

Which ever system you choose, it seems clear that any of them would be better than none. Not flying over water at all is the safest option or only flying over water that is extremely shallow.

Other Posts You May Like:
0
;
;
;
TechnoFly the company that brought us the Ventor 125 a light weight engine that incorporated a clutch, a geared re-drive and an electric starter all into a 13.3kg engine package.
They have now gone on to produce an even lighter engine by eliminating the clutch, gearbox and starter motor to produce a pull start, belt driven engine that not only weighs less but cost less also, citing that one of the most expensive parts on an engine is the gearbox. The new engine dubbed the ROTO H-130 claims to produce 65kg thrust yet is only 11.3kg complete with exhaust.
;
TechnoFly state that the engine is designed with a horizontal cooling head for improve airflow.
TechnoFly H-130 shown fitted to an AirConception Titanium Paramotor to give an all up weight of only 19.6kg
Other Posts You May Like:
0
[youtube http://www.youtube.com/watch?v=ZxjOxKQA9iU]
The Paramania GTX the bivouac generation is now here.
Under pressure, many prototypes later and several years on, the unsatisfied MCJ has finally become satisfied. His project to create the perfect wing for the "X"- country pilot and bivouac flying as well as the average club pilot out to travel is now finished.
As its cousin the GTR was specifically made to carve sharp turns, in slalom fun. The GTX is designed for comfortable, fast cruising over long distances. While also flying through rough air with minimum need for pilot input.
The GTX is ridiculously easy to launch, even on those wet mornings while loaded up with fuel and all the gear. It simply gets you off the ground quickly and efficiently every time.
The risers and trimmer system give a wide range of speed, but still maintain precise, light and progressive handling throughout. The GTX can be comfortably slowed for thermal efficiency with flatter turns.
Both the GTR and GTX are sharing the latest laminar flow MCJ reflex wing sections. Which include an integrated drag reduction system; made of carefully placed holes that equalize pressure at the trailing edge. The result is leading edge technology which has proven to be quite astounding. Therefore minimal power differences between the fast and slow speeds, a flat polar curve and increased efficiency.
The Paramania GTX 22m is made for the most popular pilot/motor weight combo.
The Gin manufactured Paramania build and engineering quality is of the highest standard. The wing comes with all the usual Paramania trimmings.
Other Posts You May Like:
0
Parabatix skyracers gets the Devin Supertramp treatment. Devin has made a name for himself travelling around the world showcasing many different sports and talents bringing the top skills of a few individuals to be seen by the world via youtube. This time it was the turn of the Parabatix Skyracers. A flying competition dreamt up by Pascal from Paramania Powergliders, the manufacturer of the GTR featured in the video with many other wings and paramotors. Devin captures the control and freedom flying a paramotor brings plus the exciting colourful side of competition. Check out his video, click like and share to your facebook walls for all to see.
[youtube http://www.youtube.com/watch?v=IG0wyXUcqZI]
If you are new to this and want to learn to fly, there are flying schools and a huge range of equipment available from all around the world.
http://www.youtube.com/user/devinsupertramp
Other Posts You May Like:
0
This seems a funny topic to be talking about for flying but as an adventurous bunch we do drive our cars off-road more than most and more than they were originally designed to. Getting to the all important take off site being the first priority. My front wheel drive Audi A3 is not the best wet grass hill climbing tool and will slip slide and get stuck in the mud…
Now that is old news thanks to fitting the Vredestein Quatrac 3 tyres. These are all season tyres, summer, winter, rain and snow, they even have the little snowflake logo and are legal to drive in Europe during the snowy season. The tyre tread is split in two, the outside half of the tyre is a summer rain road pattern, the inside half of the tread is an ice and snow pattern.
What does this mean for the PPG pilot? You get a comfortable use everyday tyre for the daily commute to work but it also grips like a tractor for the evenings and weekends that we go off-roading. The only downside I can find is when there is ice and snow, I have no excuse for not getting to work.
Other Posts You May Like:
0
The latest movie from Pascal (http://www.Paramania.com) is an epic video filmed in the Everglades, Florida USA. Of a bunch of Paramotor pilots and Jet Ski riders going mad!
Paramania Team pilots get their GTRs out and pull off some pretty cool flying stunts! Walking on water, on the Jet ski and generally doing some pretty cool and extreme stuff! Pascal takes his Parajet Thor200 & GTR for a blast in this beautiful location of soft sandy beaches and flat water. Chilled out video which really show through the Paramania attitude of flying for fun and enjoying every moment.
Other Posts You May Like:
0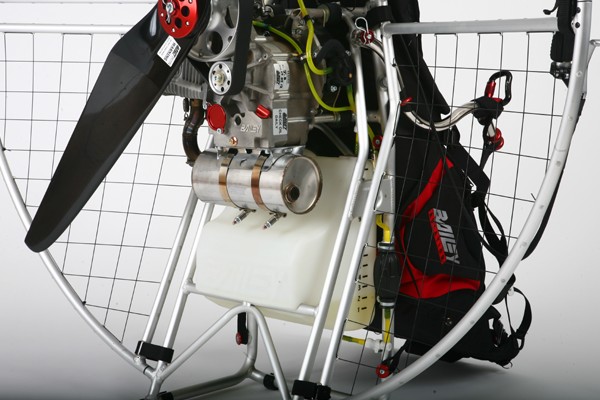 more pictures
After 12 years of producing machines with anodised aluminium fuel tanks we have finally bowed to commercial pressure and changed to a plastic tank.
The Aluminium tanks though very beautiful (and somewhat of a Bailey Trademark) were becoming too time consuming and expensive to produce.
Changing to plastic does have it advantages though, it is slightly lighter, easier to produce in complex 3D shapes and is of course translucent so fuel level can easily be seen.
In Bailey tradition it is of course quick release and comes complete with a shoulder strap for those long walks to find fuel on bivouac trips.
For the competition minded it is also mounted higher on the chassis and provides a clear airflow path under the seat and into the prop arc.
Overal CofG is also higher, giving a lighter feel to the machine.
Capacity is slightly larger than the standard aluminium tank at 11.5 litres. This new plastic tank replaces the 10L and 15L options.
Other Posts You May Like:
0
Parajet has added the Moster engine to the Zenith range giving a choice of 5 engines. Top80, Polini Thor 100 & 200, Bailey V5 and now the Vittorazi Moster.
With the Moster the Zenith becomes one of the lightest, high power machines available on the market. Weighing in at an expected 23kg with over 70kg thrust with the 130cm helix carbon propeller, with its many ground breaking design features Parajet are leading the way in paramotor designs.
Dealer News:
Parajet added a new UK dealer to the network, Essex based Custom-Air who will be serving the East of England.
Other Posts You May Like: